How to ADD FRIENDS in YUBO app? (Video)
How to ADD FRIENDS in YUBO app? – guide
To add friends on Yubo, follow these simple steps.
Go to the app home screen and in the top part start typing in the search bar.
You can just type the person you want to add as a friend in Yubo app. There are these tabs: all, friends, live, people, chat.
Tap red Add button on the right.
You can also tap on profile name and tap plus icon in the bottom.
And so that person will receive a friend request. And after that he/she will need to confirm that.
This is how you send a friend request on Yubo app.
Here is info from Yubo support site on how to add a new friend in Yubo:
Swipe right on someone's profile picture to 'like' them or swipe left if you'd rather not be friends with them. If you receive a 'like' from someone you like, you become friends on Yubo.
How to search for someone in Yubo app?
Just open search bar in the app home screen.
You can search among these categories:
All
Friends
Live streams
People
Chat
If this is helpful, consider buying me a coffee 🙂
How to use filters in Yubo app?
You can also use filters in Yubo.
How to start a stream?
In Yubo app you can live stream. Streams can also be discovered via search tab in the top.
How to play games in YUBO streams?
In Yubo app you can play games with your friends.
How to lock streams in Yubo?
How to mute yourself or hide camera in Yubo stream?
If you don't want to show your face it is possible to hide your camera in Yubo. Or mute yourself.
How to stop or leave broadcast in Yubo app?
How to get verified in Yubo app?
Here is how to verify your account in Yubo app.
How to delete Yubo account?
How to change your name in Yubo app?
How to add tags in Yubo app?
FAQs
How to add people by username in Yubo app?
Open Yubo app, go to the search bar in the top. Enter username and you will see users with similar usernames below.
How to find someone without username?
Try searching by their name, or search by their streams or chats.
Why can't I add people on Yubo?
Maybe you are searching for the wrong username. Maybe this person doesn't have a username.
If you can't add someone on Yubo, try to log out and log back again. Here is some overview of this error on reddit.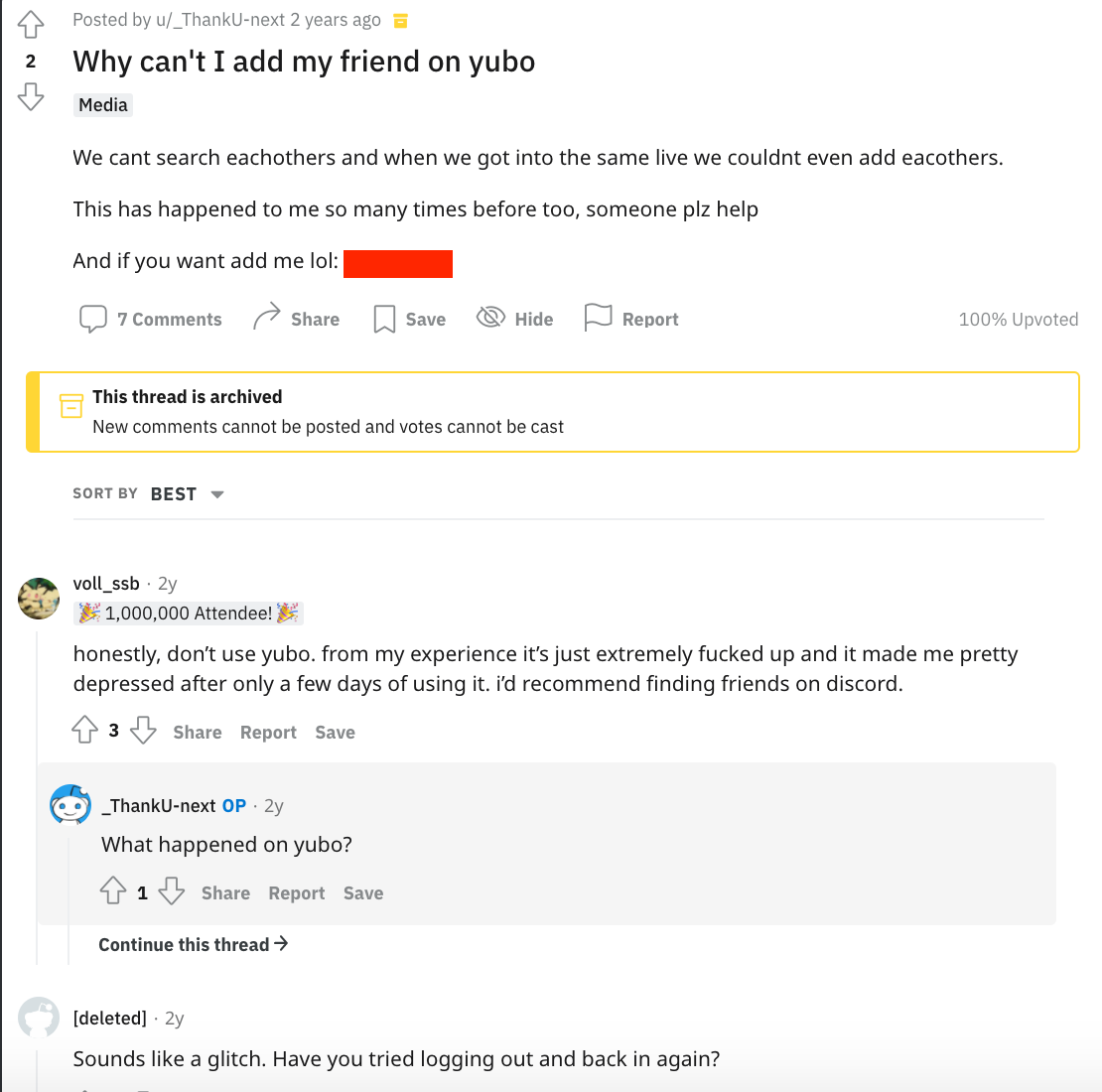 Hope this was helpful, leave additional comments and questions below. Buy me a coffee for $5.

Get Yubo app on Google Play Store or App Store.

No answer to your question? ASK IN FORUM. Subscribe on YouTube!