How to appeal account suspension in Clubhouse?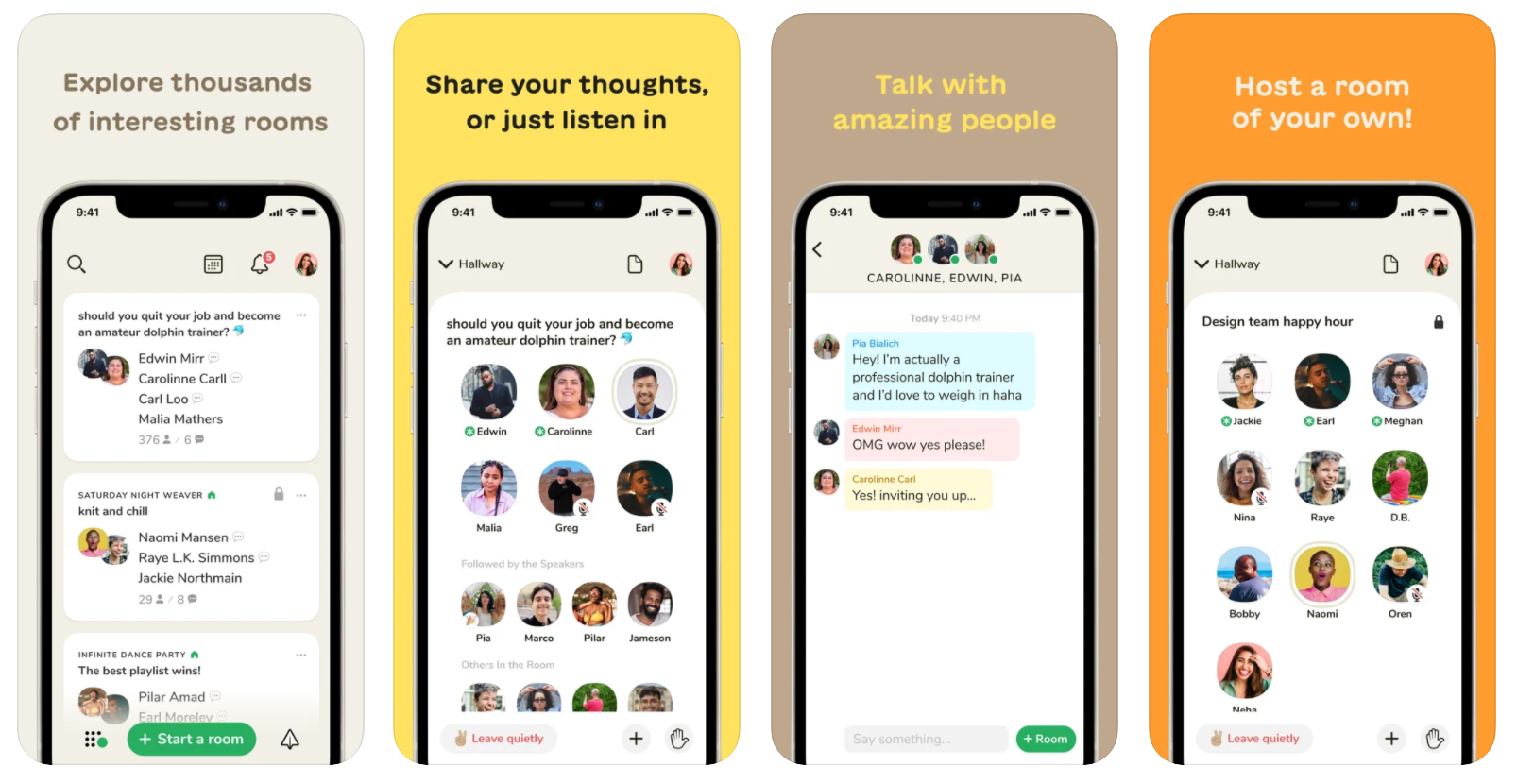 How to appeal account suspension in Clubhouse?
Good news! You can appeal your Clubhouse account suspension. Here is how to do it.
Go to clubhouseapp.zendesk.com
Create a new ticket https://clubhouseapp.zendesk.com/hc/en-us/requests/new
When you creating your support request, select Account Login Issues and then "I want to appeal my account suspension"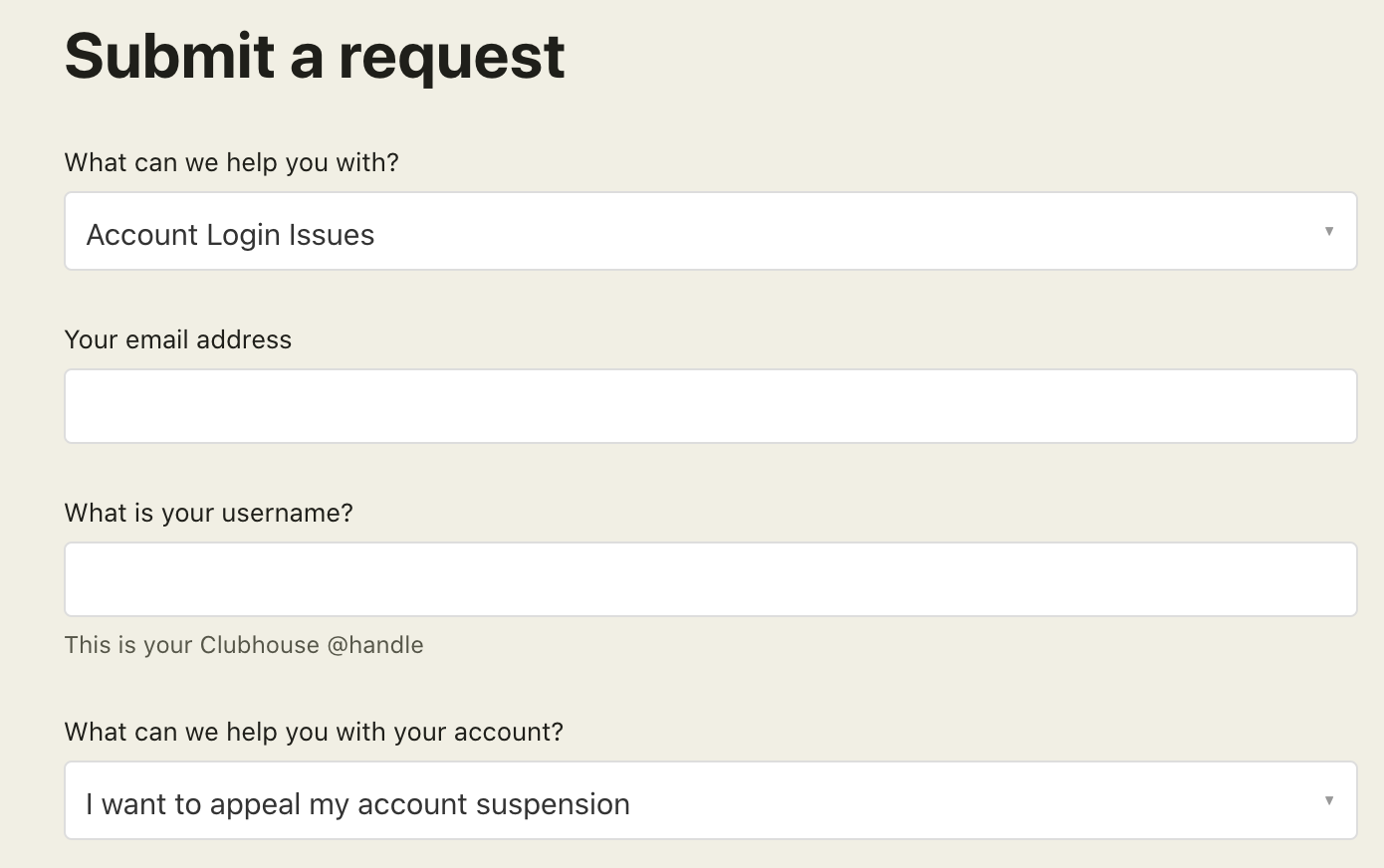 4. That's it. Now you need to wait.
Here are the official details from Clubhouse site.
If your account has been suspended, please follow this process for inquiry or appeal:
If your account is flagged for a potential violation of our Rules, your account may be temporarily or permanently restricted or removed from the platform.
If you believe your account did not violate our Rules, contact our Trust & Safety team through this form. Please include your Clubhouse username, verified email address, and reference to the original decision notification you received.
Please keep the following in mind when submitting an appeal:
Decision appeals must originate from the user who received the notice.
Clubhouse does not accept nor consider appeals on behalf of another user.
Submitting multiple appeals concurrently may result in a delay in review.
Once you submit the appeal, the Clubhouse Trust & Safety Team will decide whether or not to review it based on the Rule violation in question. Please note that not all Trust & Safety enforcement decisions are eligible for an appeal.
These are examples of potential consequences for Rules violations (non-exhaustive):
Provide a warning for a first offense of low severity and impact
Request the removal of or directly remove offending content
Restrict the ability to participate in some or all conversations
Temporarily or permanently disable or remove the account
Notify law enforcement when there is risk of physical harm or a threat to public safety
Consequences for confirmed violations may vary based on the type and severity of the violation, the impact to victim(s), the historical actions of the offending user, and the intent of the actions.
Your Clubhouse account is suspended - what to do?
Here is some discussion on Reddit.
Clubhouse fights with a lot of spam activity these days, so your account can be suspended for a smallest spam like actions.
Why your Clubhouse account can be suspended?
Usually it is because someone reported your Clubhouse account. Or you violate real name policy. Or you share recorded audio clips without room permission.
Overall, if you violate some of the Clubhouse rules, your account will be suspended.
Here is a list of Clubhouse rules.
Rules
When you use Clubhouse, you agree to abide by the following rules at all times. You also agree not to encourage others to violate these rules. The latter is taken seriously and can also result in removal from the Service.
Toggle to show or hide details for each.
You must use a real name or identity on the service.
You must be at least 18 years of age to use Clubhouse (or older if required by your country).
You may not engage in abuse, bullying, or harassment of any person or groups of people.
You may not discriminate against, engage in hateful conduct directed at, or threaten violence or harm against any person or groups of people.
You may not share, threaten to share, or incentivize the sharing of other people's private information without their prior permission.
You may not engage in intentionally disruptive activity that negatively affects the experience of other users.
You may not transcribe, record, or otherwise reproduce and/or share information obtained in Clubhouse without prior permission.
You may not engage in any conversations or upload any content that violates any intellectual property or other proprietary rights.
You may not spread false information or spam, or artificially amplify or suppress information.
You may not share or promote information (or synthetic or manipulated media) that is intended or likely to cause harm to any person or groups of people, including minors.
You may not use the service for the purpose of conducting any unauthorized or illegal activities.
If you witness a Rules violation, please follow the instructions below to report it.
Follow these links for our Privacy Policy and Terms of Service.
And, if you have questions, feedback, or suggestions, please let us know!
How long does Clubhouse suspension last?
Very often, sadly, there is no reply back from Clubhouse support. So, we don't really know.
Read http://community.clubhouse.com/
Clubhouse app
Hey! Welcome to Clubhouse — a more human place on the Internet, where people come together for great conversation.

The hallway is home to hundreds of thousands of discussions on every topic under the sun — from SCUBA diving to social justice, crypto to comic books, fashion, backpacking, Japanese language, morning news shows, meditation, movie clubs, book clubs, and so much more. It's all unfolding in real time from all around the world.
On Clubhouse you can sit back and quietly listen, raise your hand to chime in, or host your own rooms. Whether you're talking with your closest friends or making new ones, it's a place where you can experience unforgettable moments with other humans, and leave feeling better than when you arrived.
We're so excited for you to join!
Transcript
Here is support center for clubhouse.

So if your account was suspended uh or i don't know reported by someone and then it was suspended but you don't agree there is still a way to try to recover it you need to go to clubhouseapp.zendesk.com and then here is your just select your content profile and then you see here suspension appeal and then yeah you can need to include your username and ideally you need to include email address which is associated with your clubhouse account so ouch sorry for that uh you just need to uh yeah to tap add symbol in the top right corner of your clubhouse app and then you will be able to add email and from that email you can use it in contact form

No answer to your question? ASK IN FORUM. Subscribe on YouTube!