How to share a Prequel photo on Snapchat? (Video)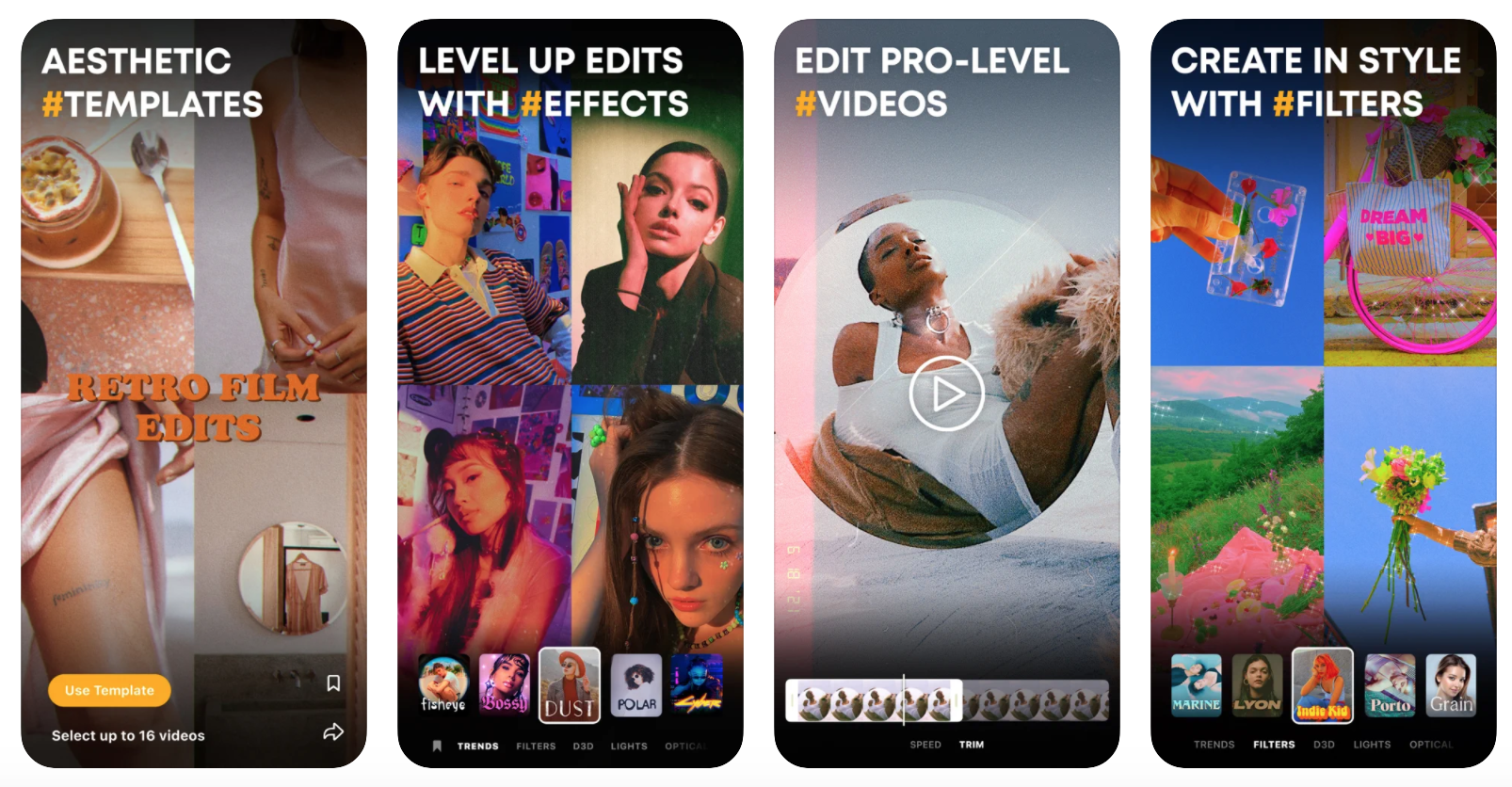 Share a Prequel photo on Snapchat – guide
Create a Prequel photo.
Add all filters and effects.
When done, tap on the yellow icon in the top right.
You will see all sharing options available – Instagram, Snapchat, iMessage, Facebook, Save Photo, etc.
Select Snapchat. Your photo will open in the Snapchat app.
Create Snapchat story.
That's it!
How to share Prequel photos on Instagram?
Following the same process as for Snapchat, you can easily share Prequel photos on Instagram.
What is a Prequel app?
Prequel app helps you to create advanced filters for selfies or any other photos or videos. Then you can use these filtered photos on most popular social media apps or just save to your device.
You can add incredible visual effects. Try these filters: Disco, Miami, D3D, VHS, Glitch, Grain, Lomo, Cinema, Snapshot and many more. Add amazing live video filters, stylish intro & outro visual effects, lots of photo filters.
Get Prequel app:
Prequel App Review
The prequel is a picture and video editing software with the ultra-beautiful presets for photo filters and video effects. It provides a curated collection of photo filters, with its nearly unlimited possibilities of filters and products, users like using this program for editing. In addition, the app contains some incredible filters.
Both iOS and Android users may use the picture editing software. "PREQUEL" is for anyone who wants to put the finishing touches on their Instagram Story. The effects give photographs and videos a vintage or hip Glitch appearance. In the free edition, there are 58 filters with two gradations each to pick from.
The unique feature of the Prequel App:
Unique Filters for Photos:
You may get the most trendy and stylish adjustment layers. It can make your photo and video distinctive and custom with a wide variety of complex tweaks and editing capabilities for each filter, which helps you improve your posts with stunning material.
It includes a large variety of festive filters and effects. In addition, there is a pro-level color correction and stunning 3D live-moving visuals that are completely hassle-free. To build your style, combine any impact with any filter. In addition, there is a one-of-a-kind variety of fan page layouts and realistic intros for your video material for any mood.
Editor of Video
This tool allows you to import and modify any video and apply fashionable presets and effects. You may also turn your videos into actual movies by altering the pace, slowing or speeding up, cropping, and trimming functions.
With the Advanced Editing Toolkit, you can effortlessly edit without any specific skills or add-ons. You may fine-tune each filter with custom parameters, and you can combine an endless number of filters and tools to build your unique custom presets.
Text & Stickers Created using Giphy:
You can make animated text stickers using your text. Selecting the font that best matches your tastes and adding your unique text to any photo or video material is straightforward.
Prequel App on Android:
The app version 1.25.0 is available for free download for everyone in the photography category on Play Store. The app has a rating of 3.6, mainly due to many bugs and lagging issues. You can download it for sure if you have Android 5 or the latest installed on your device.
Prequel App on App Store:
On App Store, the prequel app has a far better rating of 4.8 than on android. It may be due to the better operating system of iOS. The app is on number 22 in the photo and video apps categories. It is available for free download but needs in-App purchases. You can download it on iPhone and iPod Touch if you have Ios 13 or later.
Is Prequel App Good?
Some customers have also complained about the app's exorbitant pricing. As a result, the software first attempts to send you to a page to purchase the gold membership. If you're not interested, there's a greyed-out 'X' in the upper left corner. After clicking it, the app will send you to the free version.
The loading time is too long, so many end up utilizing other applications most of the time. I'm hoping that the loading time may be improved and reduced for a better user experience.
Overall, assuming the app is functioning correctly on your smartphone, its picture processing techniques are excellent.
Prequel app
Aesthetic effects and filters for photos and videos: VHS, Stardust, Disco, Monroe. Retro, vintage, or Indie Kid – find your own aesthetic!

Create aesthetic edits with Prequel and such iconic effects as DISCO, BLING, MIAMI, PRISM, VHS, D3D. There's Prequel for every story – start telling it now.

FREE FEATURES

• 800+ EFFECTS and FILTERS to match any style.

• TEMPLATES: create high quality aesthetic videos in one tap.

• D3D: create amazing 3D moving pictures without any hustle. Add any trendy effect you want.

• TEXT: 30+ custom fonts. Say what you gotta say with style.

• MUSIC: add any tracks to your videos for immaculate vibes.

• STICKERS: add gifs, emojis, and stickers to your photos. Enjoy complete freedom of self expression.

• GIPHY Text: exclusive feature to create animated unique text stickers.

• ADJUSTS: various tools to tune your content and get the exact result you need.

• INTRO: meticulously designed starting effects for your photos and videos.

No answer to your question? ASK IN FORUM. Subscribe on YouTube!