How to INSTALL or UNINSTALL YOUTUBE MUSIC DESKTOP on MAC? (Video)
How to UNINSTALL YOUTUBE MUSIC DESKTOP on MAC?
YouTube Music Desktop app – how to uninstall?
Open YouTube music desktop app.
Click on three dots in the top right.
Click Uninstall YouTube Music.
On a popup click Remove. Select also if to clear data from Chrome for music.youtube.com.

That's it – your YouTube music app will be instantly removed.
What is YouTube Music app?
YouTube music app is a PWA (progressive web app), which can be installed on MacOS, Windows, ChromeOS.
How to install YouTube Music app?
To install YouTube music app visit music.youtube.com on Chrome browser and you will be instantly prompted to install app – click Add to Homescreen.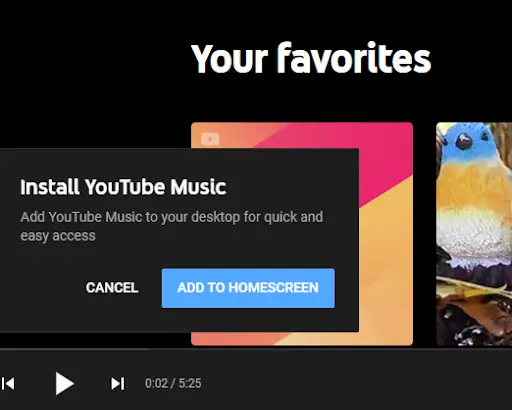 Or you can go to Overflow menu > More Tools > Create shortcut… will add the icon immediately to your OS.
Hope this was helpful!
What is a YouTube Music app?
Connecting you to the world of music:
● More than 70 million official songs
● Music content including live performances, covers, remixes and music content you can't find elsewhere
● Thousands of curated playlist across many genres and activities

Get personalized music, perfect for every moment:
● Personalized playlists and Mixes made just for you, built around your favorite types of music
● Personalized activity mixes for your Workout, Relax, and Focus sessions
● Create playlists with song suggestions or collaborate with other music fans to create the perfect playlist
● Personalized Library to see all of your liked and added songs, playlists, artists, and albums

Stay on top of the trend and discover new music:
● Check out curated for you mixes such Discover Mix and New Release Mix
● Discover music based genres (Hip Hop, Pop, Country, Dance & Electronic, Blues, Indie & Alternative, Jazz, Kpop, Latin, Rock, and more)
● Discover music based mood (Chill, Feel Good, Energy Booster, Sleep, Focus, Romance, Workout, Commute, Party)
● Explore top charts from all over the world

Enhanced your listening experience with unique features:
● Song lyrics so you can sing along to your favorites
● Switch seamlessly between audio and video
● Listen on your phone, desktop, smart speaker, smart TV, car, smart watch and within your favorite apps.
● Compatible with Google Maps, Waze, Google Assistant, and more.

Upgrade to Music Premium to enjoy:
● Listen ad-free
● Play music in the background
● Access your downloads, including smart downloads
● Switch seamlessly between audio and video, only with YouTube Music

----------
Only first-time YouTube Red, Music Premium, YouTube Premium and Google Play Music subscribers are eligible for free trials, introductory offers or promotional pricing.

Monthly price: $9.99 USD / $9.99 CAD / $11.99 AUD / $12.99 NZD / £12.99 / €9.99 / $99 pesos MXN / ₩7,900/ 99 kr NOK / 99 kr SEK / 99 kr DKK / 169 ₽ / ARS$99/ ₹99.00 IN / R59.99 ZA / ₡3,190 /$5.99 USD (EC, DO, UY, VE, GT, BO, HN, SV, PY, NI, PA) / 19.99 zł / RON22.00 / 149.00 Kč / Ft1,490.00 / lev8.99 / USD$5.99 (BY) / €5.99 (SK, SI) / €6.99 (GR, MT, CY, LT, LV, EE) / $6.99 (MK) / 13.99 Turkish Lira (TR) / kn59.99 (HR) / $9.99 (IS) / ₪19.90 (IL) / dh19.99 (AE) / Rial19.99 (QA) / $4.99 (BH, KW, OM, LB) / RP49,000 (ID) / NT$149.00 (TW) / ฿129.00 (TH) / ₱129.00 (PH) / $58.00 (HK) / RM 14.90 (MY) / $9.98 (SG) / USD$5.99 (VE) / ₦900.00 (NG) / $9.99 (TC) / £49.99 (EG) / USD$9.99 (AS, AW, GU, MQ, YT, PF, MP, PG, PR, TC, VI)/ USD$5.99 (BM, KY)/ €9.99 (GF, GP, NC)