How to change Tinder app icon (to Tinder gold)?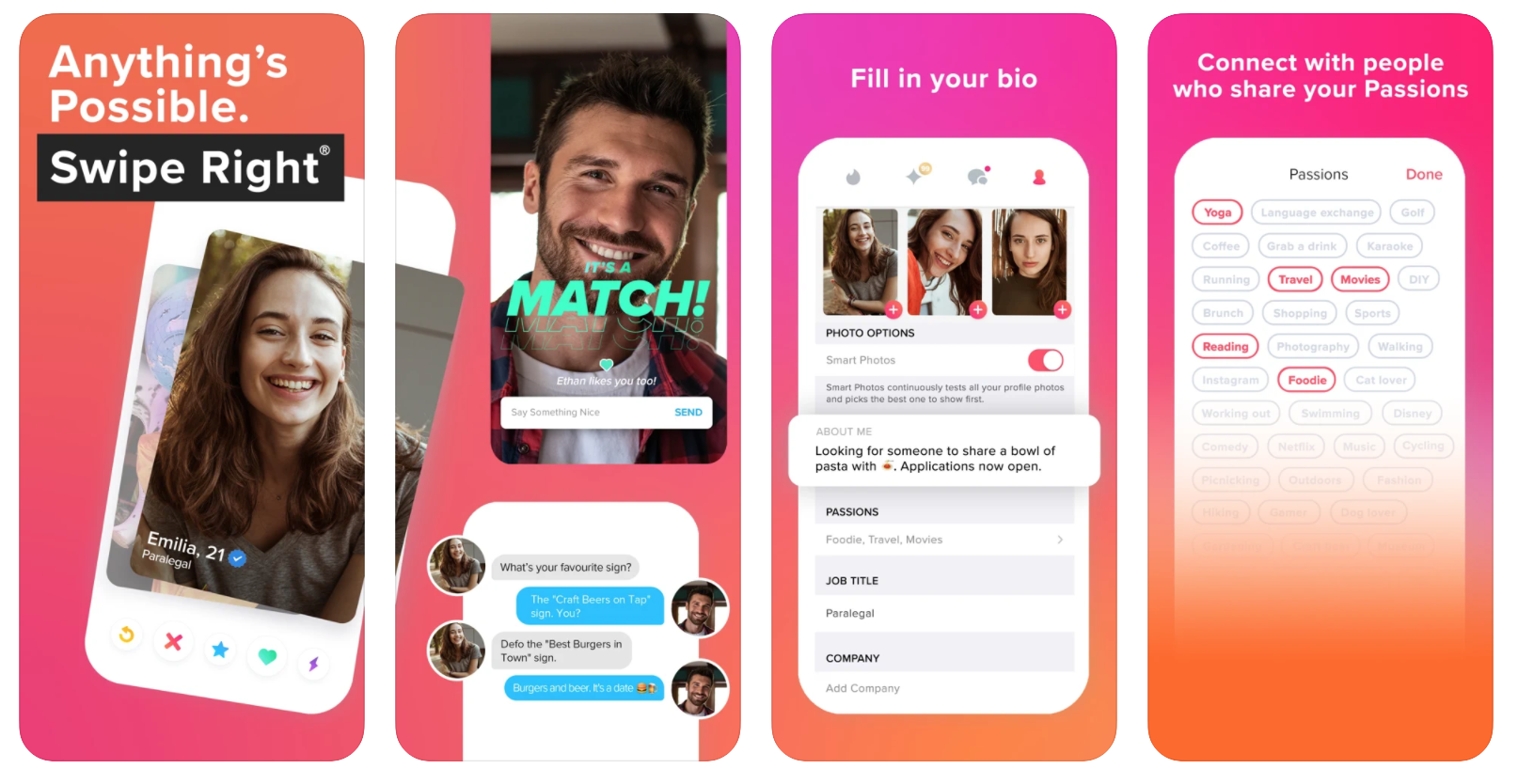 Change Tinder app icon
Did you that when you have upgraded to Tinder gold, it is possible to change your Tinder icon?
Go to your Tinder profile.
Tap on Settings – gear icon.
And in the bottom, there is an App Icon menu. Change to Tinder Gold. It is only possible to change this icon if you are a Tinder Gold subscriber.
There are also many other ways to customize Tinder app icon. You can use Shortcuts app on iPhone – it should newer iOS – after iOS 14. Then via Shortcuts app, you can upload any app icon, save it to home screen and it will redirect you to Tinder app after you tap on it.
To change Tinder app icon, you can also search for numerous Widget apps in App Store, which already have Tinder app icon designs included. It can be much easier setup this way.
Tinder app overview
For those looking for the best match, Tinder is a must-have. This app acts like that awkward, drunken matchmaker figure that helps you meet your love. There's lots of demand out there, but Tinder is still the most popular dating app globally, and it doesn't appear to be going away anytime soon.
It debuted in 2012, and by 2014, it registered around one billion "swipes" each day. It is an online matchmaker program that lets you exchange profiles and pictures for liking or hating other users' uploaded profiles, typically including a photo, a short bio, and a list of personal interests. you can exchange messages once two users have "matched."

How does it work?
Tinder once needed access to a Facebook account to use the app, but in August 2019, it began letting users join with simply a phone number. In addition, you may access it via a mobile app or a web browser on a PC.

Download it, create an account or log in using your Facebook profile, then define the gender and age range of the individuals you'd want to meet, as well as the distance you're willing to go to meet them.
And Tinder is there to search for the individuals who exactly match your criteria. Once it finds one, it displays cards on your desktop. This card contains the image and whole bio of the person to decide if you like it or not.
And it's not finished here. You can either like by press the "heart" below the picture or dislike by pressing the "cross."
Tinder will notify you that a match has been made and offer a simple messaging feature if you like someone who also likes you. Because the message system is only available once both parties have verified their interest, you won't know whether someone likes you until you also like them. So, if you want to see results, download the Tinder app and start interacting.
Prompts:
Prompts is one of Tinder's more recent features. These are short conversation starters that you may add to your profile.
Videos:
Tinder used to let users submit two-second 'Loops,' but this has now been replaced with the opportunity to add lengthier films to your Tinder profile - up to 15 seconds.
Super Likes:
To Super Like someone, press the blue star symbol or swipe up on their profile.

Boost:
It is a premium option that brings your account to the head of the queue of every Tinder user nearby for about half-hour, increasing the likelihood that you'll receive matches in the following half-hour.
Tinder on Google Play Store:
Tinder 12.18.1 is available on the Play Store under the Lifestyle category for users aged 17 and above. It has a rating of 3.3 from 4.4 million users. The app already has 100 million downloads on the play store, and if you want to get it, you need Android 7.0 or the latest on your device.
Tinder on App Store:
Although the app rating is 3.8 out of 4, it's trending in the second position in lifestyle apps on the App store. You can download the app on iPhone, iPod Touch, and Apple TV if you have iOS 12 or later for iPhone and iPod Touch and tvOS 9.2 or later for Apple TV.
Is Tinder Safe?
Tinder cannot be deemed safe since there are hazards associated with using these dating websites and apps. The first and most crucial issue is that your private details become public, and many individuals can trick you in person, which can be hazardous.
They may send you sexually explicit photos. In early 2018, security researchers discovered that Tinder's iOS and Android mobile applications lacked basic encryption for pictures, as well as basic HTTPS encryption. In reality, Tinder had a significant data breach in early 2020, resulting in over 70,000 photos of women being posted online.
In reality, you have no idea who the other user is.
Tinder iOS app
Welcome to Tinder — you can be here for a good time, and a long time, too. With 30 billion matches to date, Tinder® is the top free dating app, making it the place to meet new people. Whether you're looking for love, need a date today, or just want to chat: We've got something for local singles everywhere, plus free features that give you the best dating experience possible. Like what? Glad you asked.

- Whether you're gay or bisexual, be proud of who you are with our Orientation feature

- Prove you're the real deal and verify your profile with Photo Verification

- Find out what you've got in common with your potential match with Interests

- Bring a plus one on all your dates for extra safety with Noonlight

Take us with you on your travels whether you're dating in Berlin or dating in Chicago — wherever you go, we'll be there. Some people call us their most dependable matchmaker, some people call us the world's most popular free dating app, but you can just call us when you want to meet up with singles.

While you're here — make a toast to the Tinder Gold™ life. Enjoy all of Tinder's premium features with our top-tier subscription.

- Likes You allows for you to see all your fans, saving you precious time

- Unlimited Likes for you to catch feelings for as many people as you want

- Rewind for you to undo your last Like or Nope

- Use Passport to go anywhere in the world to find friends online outside your zip code

- Boost your profile to the top for thirty minutes to get more attention

- 5 Super Likes per day because sometimes you really, really Like someone

There's a plus side for those not ready to commit to a relationship with a Tinder Gold™ subscription. With a Tinder Plus® subscription, you'll unlock features including Unlimited Likes, Passport, Rewind, Boost, and 5 Super Likes per day.

Tinder Basics:

Match. Chat. Date. That's our mantra. It's easy and fun to find people on Tinder. Make your profile stand out with your best pics and a little something about you to increase your match making potential. Swipe Right™ on a profile to Like someone, swipe left to pass. If someone Likes you back, It's a Match! And, there's no pressure: We invented the double opt-in which means two people have to show a mutual interest in order for there to be a match. How many dating apps can say that?

Tinder is the biggest and flyest party in the world for singles — it's about time you showed up.

-----------------------------------

If you choose to purchase Tinder Plus® or Tinder Gold™, payment will be charged to your iTunes account, and your account will be charged for renewal within 24-hours prior to the end of the current period. Auto-renewal may be turned off at any time by going to your settings in the iTunes Store after purchase. Current Tinder Plus® subscription price starts at $9.99 USD/month, and one-month, 6-month and 12-month packages are available. Current Tinder Gold™ subscription price starts at $14.99 USD/month, and one-month, 6-month and 12-month packages are available. Prices are in U.S. dollars, may vary in countries other than the U.S. and are subject to change without notice. No cancellation of the current subscription is allowed during the active subscription period. If you don't choose to purchase Tinder or Tinder Gold™, you can simply continue using Tinder for free.

No answer to your question? ASK IN FORUM. Subscribe on YouTube!