Sweatcoin app - crypto app, which helps you to do walk more! - podcast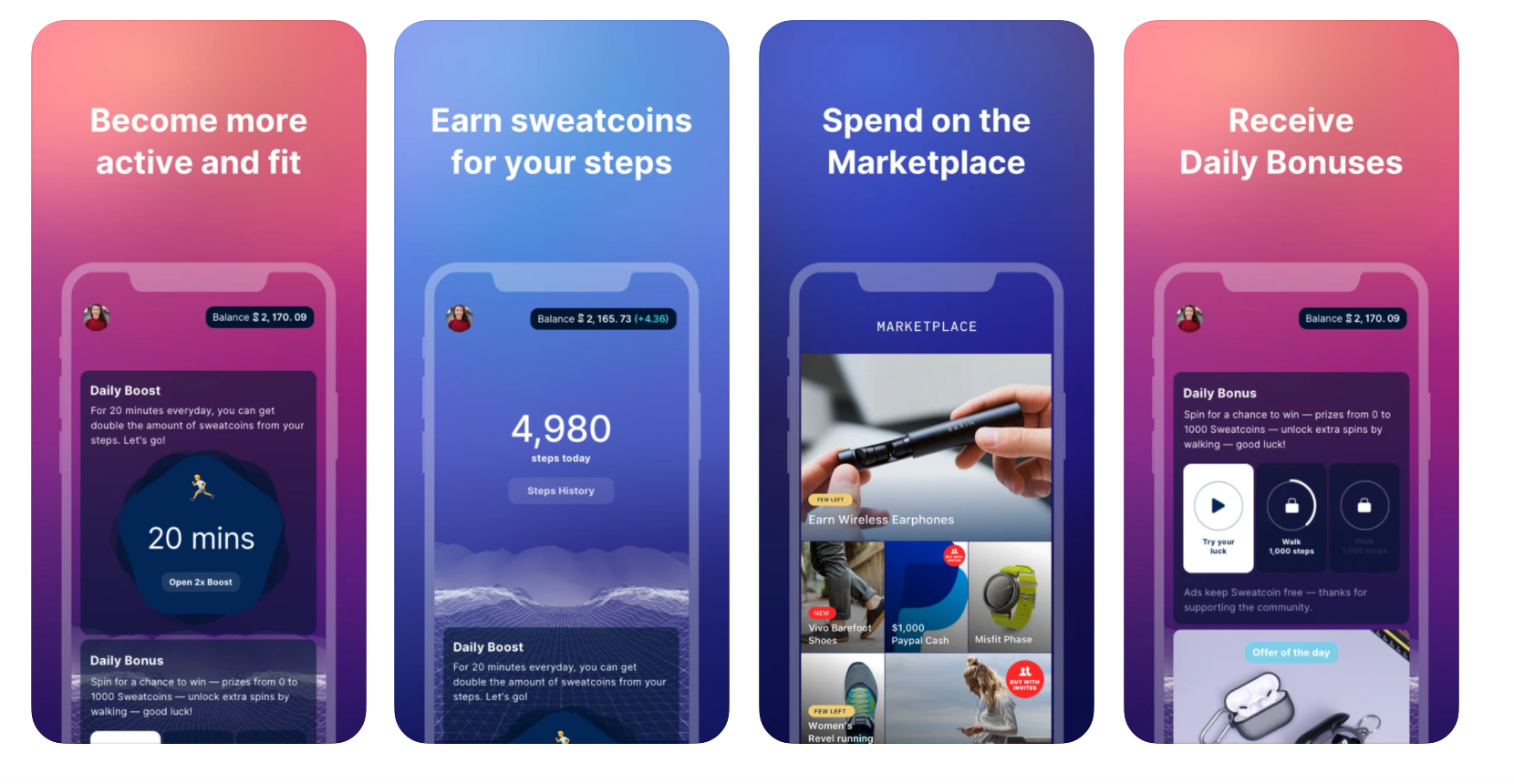 Sweatcoin app - crypto app, which helps you to do walk more!
Sweatcoin app - crypto scam or a real app that helps you to walk more?
Transcript
Hey, everyone, welcome to mrhackio podcast. So today we're going to talk about another cool app. We just tried out. I think you should take a look at it from different reasons.

It's called SweatCoin app. So sweat coin. Maybe not sweet. Coin sweat Coin, an app that rewards your steps. So you would ask, of course, there are so many apps which are tracking your steps.

And I was thinking why this app is in the top chart in the US App Store. In fact, it was in the top 100 apps in the US App Store. What the heck here? We want high VR sweetcorn. You want a healthier you on a healthier planet.

We achieve this by converting your steps into a currency to spend on cool products and services. It pays to walk. So basically, you just install this app. It's called Swatcoin Three app. You just download it and then it connects you to the Apple house.

And then basically it tracks steps from the Apple house to sweat coin. And then you will see basically all these steps converted to a sweat coin. So it's like a cryptocurrency. And basically, when you sign up, you have, like, 1000 steps as a bonus. And then every day, if you're working, 1000 steps is converted to 1000 steps, generates one sweat coin -5% processing fee.

We don't accept bumps and shake. So, yeah, that's true. If you just bump and shake your phone, it doesn't count. But if you go, it counts. And then you will see that today I went for 1700 steps or something like that.

And I generated 0.1 SWAT coin. So that's cool. And then obviously the next question is like, cool, can I then just spend this money and buy some stuff on it? The question the answer is that you can only spend this money in their marketplace. So it's not possible to withdraw this currency and to send it to PayPal or one more?

I was thinking in the beginning, like, oh, cool. There is. What coin can I just exchange this money to another cryptocurrency by Nas Exchange or Coinbase Exchange? Like, can I do that? No, you can't.

It's not the token. It's not the swipe coin. It's not that. So you can't change that. So that's the drawback.

Of course, it will be perfect if you generate cryptocurrency for just walking and then exchange that into Bitcoin or Theorem or Salona. And then this would be amazing. They say in the app that these are like future steps, but it's not a reality at the moment.

But still, you can buy some cool stuff there.

I'm just looking in that right now like a marketplace. And then you can get some discounts. So 50% off with watches from Rob Highs. It costs five SWAT coins. So you need to go a lot of steps for that.

Yeah. I'm just trying to see here.

I don't know exactly how much what coin to generate. Yeah. You can also join different communities and different races. As a result, December 250K race. So if you go to 150K staff in December, you join that you can win some prizes.

But the thing is, it's still super hard to get something tangible for just walking. It would be cool. Like if I'm going like, 10,000 steps every day for a month, like, 200,000 steps, and then I'm just buying a watch for that. Thank you. I'm rewarded.

But of course, that would be amazing. But yeah, at the moment, it's not possible with this app because you need she's low amount of steps.

Yeah. So for some reason, 1000 steps generates one Sweatcoin, and I was added just like 0.0. 100 of sweat coins. I don't know. So you have an understanding deep moisture and face mask from Blank Stockholm.

It costs 100 sweat coins. Amazon $20 Amazon voucher cost 8000. And also you need to be on the premium account, so you need to subscribe in this app, so it's basically unreachable. And then there are some unique latter necklace from Leos London that's 55 coins. Also, you need to be on premium.

There are some digital offers, some like, quite lost programs and all of that, there are a lot of brands which are trying to promote themselves on this app, and I think it's a nice app and it works with Apple Watch and all of that. So yeah, I'm not in any way affiliated with this app at this moment, so I'm just trying to show some really cool apps. For example, this app can be really motivating for you to start working, even if, like, after you can buy some moisture and mask or something like that.

But because of that moisture and mask, which cost like $10, you walk like 300,000 steps. It's really worth it.

So definitely give it a try to this app. So yeah, that's about it. That's the app Sweatcoin. Check it out in the app store or give it a try. Leave your reviews in the comments below.

Thank you for listening and tuning in. See you in the next catch up in the next episode. Jasmine, YouTube channel, YouTube. Commix.

No answer to your question? ASK IN FORUM. Subscribe on YouTube!