How to block someone in Yik Yak app?
Go to the post, which author you want to block.
Tap on three dots.
Tap on More options.
From here you can report or block users.
How to unblock users in YikYak?
Go to More Options.
Tap on Unblock everyone. It is only possible to unblock everyone, not a specific user account.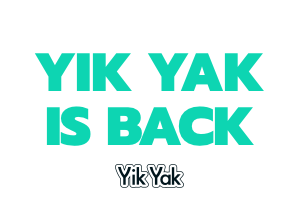 What is Yik Yak?
On Yik Yak, anonymously connect with everyone within 5 miles.
It's the same Yik Yak experience millions knew and loved, and now you can live it again.
All you need to do to get started on Yik Yak is verify your humanity with a valid U.S. phone number.
Inside the app, your identity is a secret. This makes it fun and easy to jump into conversations without societal labels! Everyone is equal on Yik Yak.
Other people within 5 miles of your location on Yik Yak are your "herd".
When you post a message (called a "yak"), it's visible to your herd.
You can upvote or downvote yaks to show your like or dislike of the content!
On the Hot feed, yaks from the last 24 hours are ranked by number of total upvotes!
To start a conversation around any yak, you can easily comment and start a dialogue.
Notifications make it easy to keep up to date with activity.
To make things easy to understand, we've included awesome tutorials.
Want to see what's going on all around the country? Check out the Nationwide Hot and Nationwide Top feeds to stay on top of the national pulse!
To keep everyone safe on Yik Yak, make sure you review our Community Guardrails before you get started!
It's finally time to Find Your Herd again! The yak is back!
Transcript
okay so here is yik yak app so how to block someone here so when you see the post so for example let's see here um and then uh you can just tap on three dots and then you can tap more option and then report a block user so this is how you report a block user on yik yak [Music] also you can just when you did that and you think you did a mistake you can just tap and block everyone and then you can just tap on block all you can't unders it's not possible to unblock specific user which you blocked before so you can only unblock all so that's that.
Read also
https://mrhack.io/how-to-change-comment-icon-in-yik-yak-/

https://mrhack.io/how-to-delete-yaks-in-yik-yak-app-/                                                                                                                                                                                                                                                                        

No answer to your question? ASK IN FORUM. Subscribe on YouTube!