How to SUBMIT APPEAL for REMOVED TikTok video? (Video)
TikTok video removed for Community Guidelines violation
Sometimes, for different reasons, your TikTok video can be removed by TikTok.
You will see a notification like this in your account.
Instead of your video there will be a black screen with a text: Removed for violating Community Guidelines.
In the bottom you will see: Community Guideline violation. See details.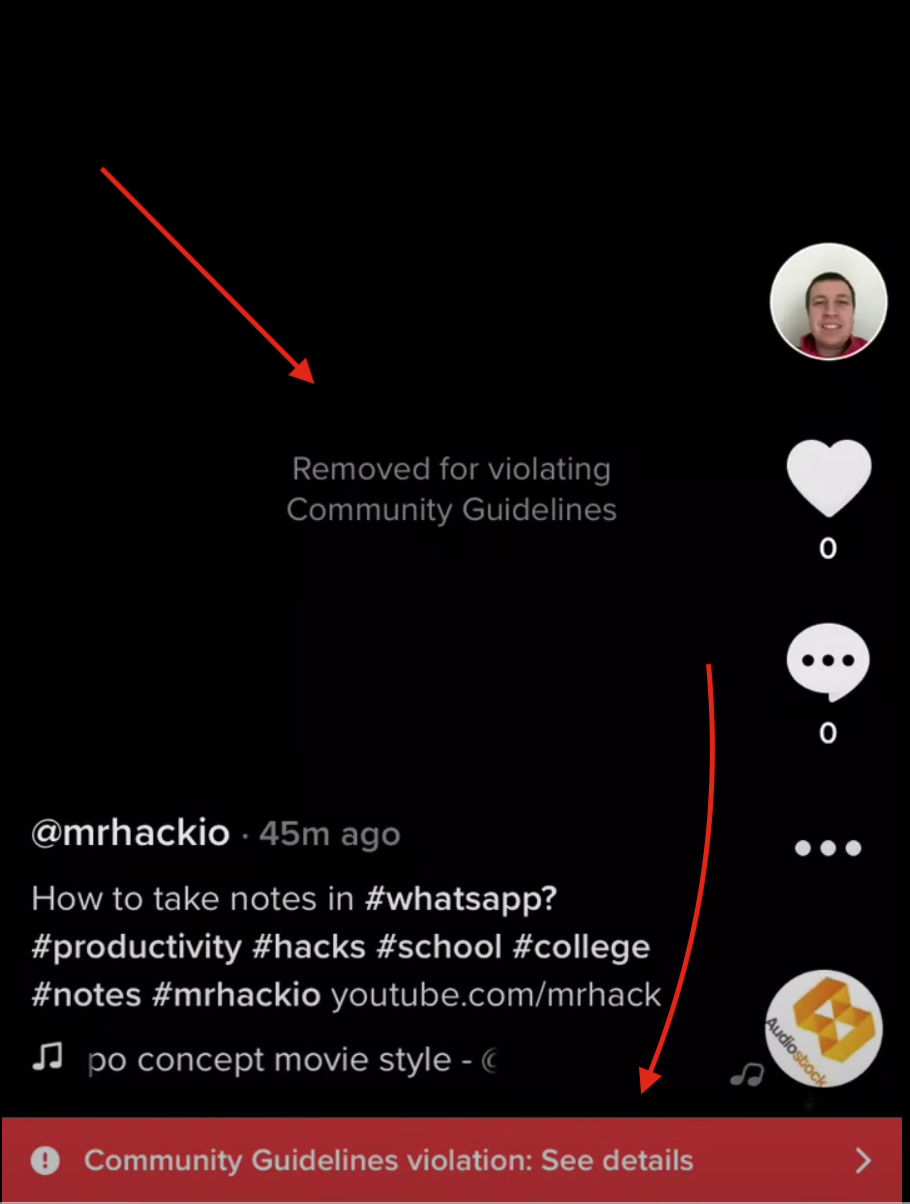 Here is a quick summary of TikTok Community Guidelines.
Which areas can get your TikTok video removed?
Dangerous individuals and organizations
Illegal activities and regulated goods
Violent and graphic content
Suicide, self-harm, and dangerous acts
Hate speech
Harassment and bullying
Adult nudity and sexual activities
Minor safety
Integrity and authenticity
Threats to platform security
How to appeal for Removed TikTok video?
Tap See details (in the bottom red bar).
Submit appeal (in the bottom of the screen).

Submit appeal form. You can include text and up to 4 screenshots. Try to add as much detail and arguments as possible. The stronger your case is - the better are chances that your video will be restored.

Usually, after this process, you will receive a message that TikTok appeal is received.
How long does TikTok appeal take?
There is different information. According to this Quora answer, the answer to an appeal should be under 48 hours.
But, in reality, it is around 7 days or even longer. Maybe you will get a notification inside the app about the results of appeal.
However, you can read in this Reddit thread, that very often TikTok just doesn't respond. And also appeal time varies significantly. However, there are cases when removed TikTok videos are actually restored.
Can TikTok ban your account?
If only one or few videos on TikTok violated Community Guidelines, it will only affect those videos. But, if you continuously violate these Guidelines - your account is under risk to be banned.
If your account has been banned, you will receive a banner notification when you next open the app, informing you of this account change.
Then you can also appeal for that decision, but there is no guarantee that TikTok will restore your account.
Further questions?
If you still have concerns about your removed video or appeal process, I would recommend joining TikTokhelp subreddit and posting your questions there.

No answer to your question? ASK IN FORUM. Subscribe on YouTube!